Inauguration Academic Year 2016-17
          The Inauguration  day was held on 18-8-2016 at college auditorium  of SCAD college of education cheranmahadevi.  With the presence of Mr. Ignatius  Xavier, General Manager [Finance] SCAD group of Institution, Mr.Arul Durai co-ordinator of Anbu Illam  project  SCAD, The Principals of Teacher Training Institute and SCAD Polytechnic College are our guest of honor. The function started at 10.30 am with the prayer song sung by our student teachers. Mrs. Jenifer Wills,  Assistant Professor of English read the Bible verse and Mr. Jebaraj, Assistant Professor of Physical Science  started the programme with the prayer.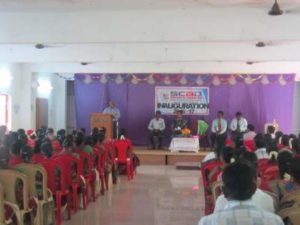 Mrs. Jenitha Rani,Assistant professor of Commerce welcomed the gatherings. Our Principal Dr. V. Ahila Ruby Shantha Kumari felicitated and honored the chief guest with shawl and momento. Then for the bright beginning of the first year students the kuthu vizhaku lightened by our dignitaries . Then our chief guest Mr. Ignatius Xavier (F) delivered his special address. In his speech he emphasized the importance of leadership and motivated the students to be active and self-confident with few interesting stories.
          Then Mr. Arul Durai, co-ordinator of Anbu Illam SCAD project delivered felicitation and explained about how to make the student understand their lessons easily. Then Mr. Natrajan, Principal of D.T.Ed focused the importance of teaching and mentioned the students should be proud to be a part of this institution. Finally our Principal Dr. V. Ahila Ruby Shantha Kumari introduced the staff member of the college and spoke about the importance of our college. She also thanked each and every one for this occasion. The Vote of Thanks was given by Dr. D. Carolin Assistant Professor of Tamil, the programme came to an end by the National Anthem.