CT Camp
     Every year our staff and the students organize a 5 day citizenship training camp in a selected rural area around Cheranmahadevi. It is the service to the rural people that makes our college stands out from others
CT Camp 2015-2016
     CT Camp was organised from 14.12.2015 to 18.12. 2015 at  SCAD College of Education campus, Cheranmahadevi. The camp was inaugurated by our SCAD Chief Co Ordinator  Dr. S. Jesiah Selvam. Dr.C.RameshAsst. Professor, D.D.&C.E., M.S.University Tirunelveli  was the chief guest.   Our principal Dr.P.Annaraja felicitated the gathering; Mr.J. Suresh was the Co-ordinator of the CT Camp.
     On the same day Morning session, Dr. M. Muthukumar (BSMS) from SCAD project delivered a talk on health and hygiene. Then Dr.Muthukumar gave a talk on needs and uses of food and food habits.  In the after noon session Mrs. K. Thirumalai Selvi delivered a talk on "Immunity power".
     On 15-12-2015 the students were taken to the near by village "THARUVAI" for social work in the presence of Mr. Velusamy the president of Tharuvai village. The students paid a visit to "VINMEEN WOMEN SELF HELP GROUP" and their manufacturing. Nearly 50 fruit saplings were planted with the co-operation of the residents in that village.
     On 16-12-2015 morning session eye donation awareness programme was organised by Dr. J. Ganeshan, district chair person for eye donation, Sivakasi. He explained in detail about human eyes, protection of eyes and eye donation. During his talk he asked many questions and awarded prizes to the students who gave correct answers. In the afternoon session students were taken to SCAD Organic garden.  Mr. I. Jeyakumar SCAD Project, an agriculturist explained the production of electricity from biogas, fish culture, agriculture farming etc. The students visited all the places in the garden.
     On 17.12.2015 the students were taken to the village "MUKKUDAL" for social work in the presence of  Thiru D.S.A. Sivaprakasam Ex Mp. Saplings were planted and students interestingly participated in the temple cleaning. The village people appreciated the students.
     On 18-12-2015 morning session Dr. H. Deepa Asst. Professor, D.D &C.E, M.S. University gave a valuable speech on "Eco System" She stressed the role of teachers in protecting the natural resources.  She also added how to safe guard our eco system from pollution and destruction. In the next session, Dr. M. Vasumalairaja Associate Professor Alzhagappa University gave a talk on "Role of teachers in Society".  He discussed about the role of model teachers in social problems, students' problem and their remedies.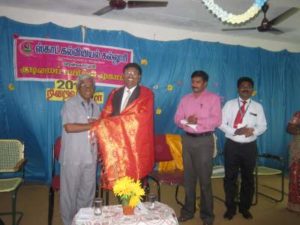 In the afternoon, the Evaluation and Valedictory Function was conducted in the presence of our General Manager Mr.R.Thambithurai. Dr. M. Vasumalairaja Associate Professor Alzhagappa University was the chief guest. He shared the importance and values of conducting CT Camp. Dr. P. Annaraja, Principal felicitated the staff and students for their wonderful service. The Camp report was read by Mr.J. Suresh Coordinator of CT Camp.